Where's That Cast Now? Spamalot Edition
November 17, 2023
•
With Spamalot having returned to Broadway 18 years after its debut, readers may be curious about what the original 2005 cast is up to now. Below, Broadway's Best Shows is celebrating the original cast of the spoof-filled musical and the careers they've enjoyed since.
Hank Azaria
A voice acting legend for his 30+ years of work on The Simpsons, Azaria made his Broadway debut as Sir Lancelot in Spamalot. He later appeared in the 2007 Aaron Sorkin play The Farnsworth Invention on Broadway and has appeared in many TV shows and movies, most recently starring in Brockmire and The Idol, while continuing on The Simpsons.
SNL alum Taran Killam plays Lancelot in 2023, with Beetlejuice's Alex Brightman set to take over the part in January 2024.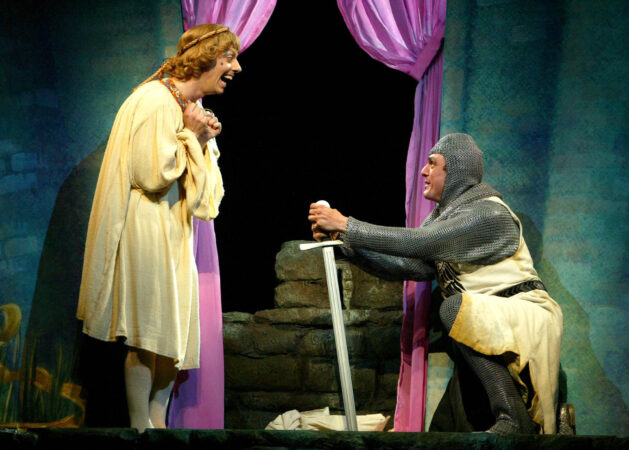 Christian Borle
Borle had maybe the craziest track in a show where everyone played 2-5 characters. In the program, he was listed as "Historian, Not Dead Fred, French Guard, Minstrel, Prince Herbert." He went on to Legally Blonde, and Falsettos, two performances seen far and wide after they were recorded for television, and has two Tonys, for Peter and the Starcatcher and Something Rotten. He was nominated again for 2023's Some Like It Hot. Oh yes, and he was on Smash. 
Spongebob's erstwhile simple sponge Ethan Slater steps into the track in 2023.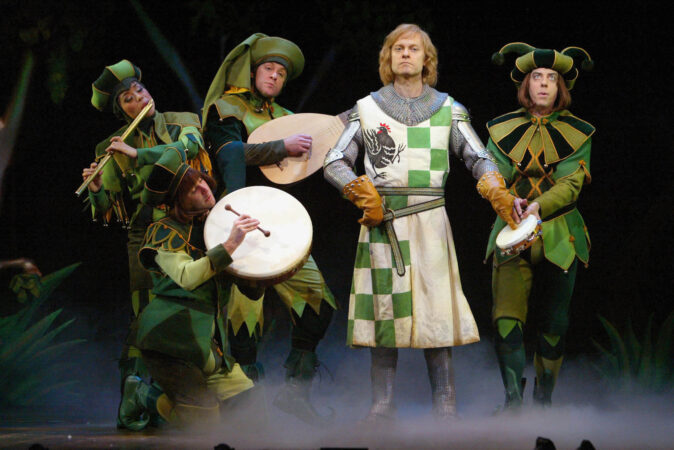 David Hyde Pierce
Pierce was possibly the most famous actor coming into Spamalot, after eleven years on Frasier. While he had acted on Broadway before, he learned to sing and dance for the production. After his turn at the Round Table, he won a Tony for his performance in Curtains, appeared in Vanya and Sonya and Masha and Spike, and worked opposite Bette Midler in Hello, Dolly! He can currently be seen at The Shed in the final Sondheim musical Here We Are, and on the MAX series Julia. 
Michael Urie plays his role in the 2023 production.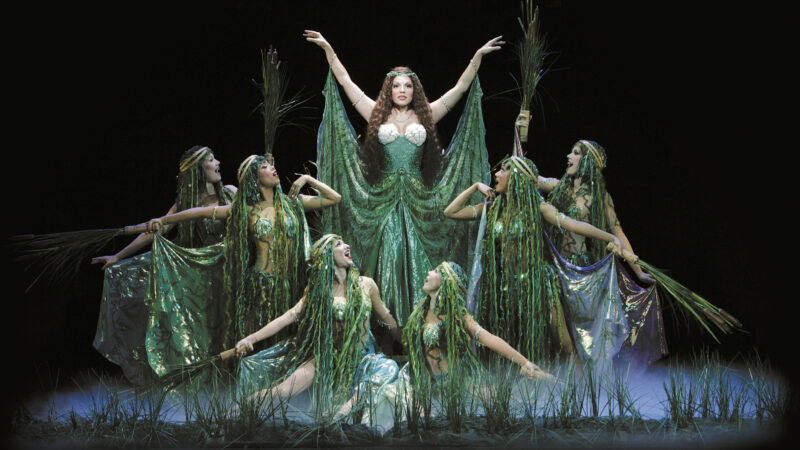 Sara Ramirez
Ramirez has recently reentered the zeitgeist with their attention-grabbing role as Che Diaz on And Just Like That, but theater fans know them as the Tony-winning Lady of the Lake in Spamalot. In the intervening period, they worked on eleven seasons of Grey's Anatomy as Callie Torres, breaking barriers for queer representation in television. 
Beetlejuice's Leslie Rodriguez Kritzer steps into the part for 2023.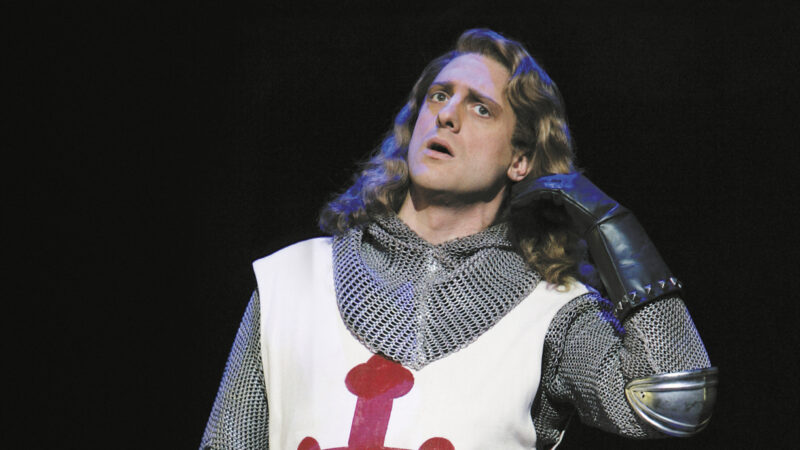 Christopher Sieber
After his Tony-nominated stint as Sir Galahad in the original Spamalot, Sieber did a series of impressive physical comedy roles, including originating the role of Lord Farquaad in Shrek, garnering another Tony nom, replacing as Miss Trunchbull in Matilda, and rolling around the floor of the Jacobs doing martial arts with Jennifer Simard in 2022's Company revival. The role of Trent Oliver in The Prom was written specifically for him.
Broadway stalwart Nik Walker takes over the role in 2023.
Tim Curry
Tim Curry made his fourth Broadway appearance, as King Arthur, in Spamalot. His post-Spamalot work is sadly limited, due to a stroke in 2012, although he did make a winning turn narrating the 2016 Rocky Horror Picture Show remake. He has also worked extensively as a voice actor, including in the critically acclaimed animated series Over the Garden Wall.
James Monroe Iglehart (Aladdin, Hamilton) plays the part in 2023.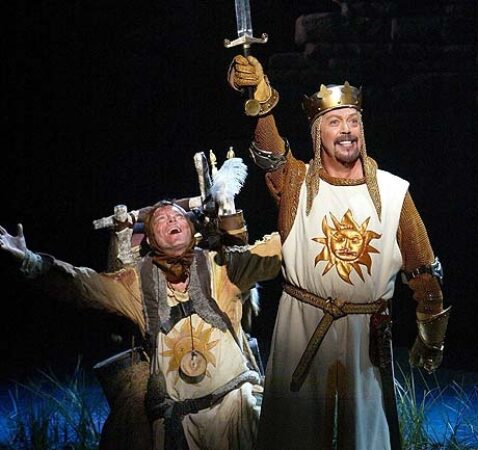 Michael McGrath
McGrath, Spamalot's loyal Patsy and a beloved New York character actor, appeared in an incredible nine Broadway shows afterward. Most recently he understudied Matthew Broderick in Plaza Suite, and starred as Ladislav Sipos in Roundabout's 2016 revival of She Loves Me, among many other credits. Sadly, McGrath passed away in fall 2023.
Christopher Fitzgerald (Waitress) plays Patsy in 2023. 
And a special bonus…
Hannah Waddingham
Waddingham starred as the Lady of the Lake when the production moved to London, and also came to New York near the end of its run. In 2020, Waddingham vaulted to stardom as football club owner Rebecca Welton on Ted Lasso, winning an Emmy for her performance. She was also the "Shame Nun" on Game of Thrones and a helicopter parent on Sex Education. 
Waddingham is releasing a Christmas special on Apple TV, and an accompanying album, both out on November 22nd.