TONY TALK: Jennifer Weber
May 19, 2023
•
Meet Jennifer Weber, the choreographer of this season's & JULIET and KPOP!
This is Jennifer Weber's first season as a Broadway choreographer, and she's off to an auspicious start—she's landed Tony nominations, plural, for her work in & JULIET and KPOP. While a lifelong Broadway obsessive, as you'll learn below, and cut her teeth choreographing TV commercials for brands like Marc Jacobs and American Express, and interdisciplinary dance pieces like A HIPHOP NUTCRACKER for Disney+ and PBS. For & JULIET, Weber was also nominated for an Olivier award for her combination of contemporary pop choreography and Shakespearean wit.
Learn more about Jennifer Weber with our TONY TALK Q&A:
Who was the first person to text/call you when you got the nomination?
My Mom was the first person to text me after I got the nominations.  I think she said something like "Congrats, Call me later" and then my phone started exploding and it was many hours before I called her back.  I was absolutely in shock!  I feel like my Mom was way less surprised.  
Show some love to a fellow nominee this year. Whose work blew you away?
This is such an amazing year for dance on Broadway.  When I saw Casey's work in Some Like it Hot I was so jealous I didn't get to make an epic tap dance chase scene.  That's how I know I really love something—when I'm jealous I didn't get to do it.  That scene is just a brilliant piece of musical theater choreography– storytelling, comedy and showmanship all perfectly constructed.  I was blown away.  Susan's work in New York, New York is classic Broadway beauty.  I've been such a big fan of her ever since Contact.  That show had a big impact on me and the potential for dance to tell stories without spoken text.   And I have to really shout out Steven Hoggett whose work I first saw in London when I was doing study abroad in college.   His use of physical vocabulary and magical visuals in storytelling was my main inspiration to start off on my journey into theatrical choreography.  I was lucky enough to take a three-day workshop with him in London many years ago and that's the only actual choreography training I've ever had. I learned so much during that experience.   I hope I'm now his star student!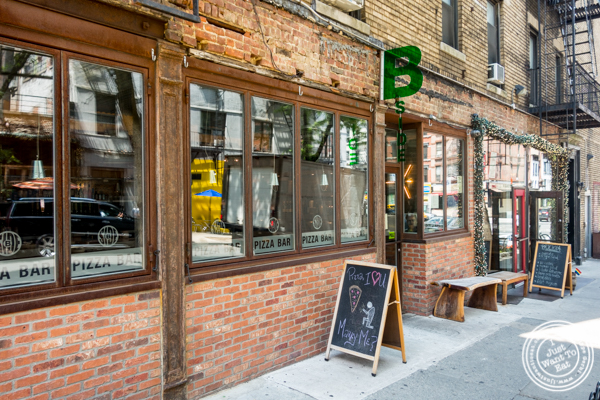 Top restaurant in the theater district?
Although it's a little out of the way I love B Side Pizza Bar.  When I was working on KPOP at Ars Nova it was my staple.  The kale salad and zucchini noodles are incredible.
The first Broadway show you ever saw?
The first Broadway show I saw was A Chorus Line.  I grew up in a small town in Massachusetts, but my parents were ex-NY'ers and took me to a lot of theater as a kid.  I think I was about 8 or 9 when I saw A Chorus Line and it made me fall in love with theater.  All the music, all the dancing, all the gold costumes, I just loved everything about it.  I had no idea that was a job—it just seemed like magic.  
When did you decide to become a theater artist?
I don't know if I decided to become a theater artist, but I love working in theatre and I feel incredibly lucky to be a part of this fabulous Broadway community.  My journey to theater was very roundabout.  I was never in a musical and I've never worked as an assistant or associate choreographer.  I came from working in concert and commercial dance. I love working in different mediums so I can take things I've learned creating one type of choreography and apply it in another arena.  
What is your earliest Tonys memory?
My earliest Tony memory is probably the 1994 Tonys and watching the cast of Damn Yankees rock the stage. I was in high school and had gotten really, really into dance.  I recorded the Tonys that year and taught myself all of Rob Marshall's choreography to "Shoeless Joe."  If asked, I absolutely can still do a few of the 8 counts from that number.   I just re-watched that number and it totally holds up. 
Who's your favorite Tonys host in history, and why?
I thought Ariana DeBose did a really great job.  Triple threats make great hosts.  
All-time favorite Tonys performance on the telecast, and why?
My all-time favorite Tony performance.  Ok this is obscure, but the 1999 cast of Footloose performing the title song.  I used to take dance class at Broadway Dance Center with AC Ciulla who was Tony-nominated for choreographing that show.  I was super shy so I always hung out in the back and never talked to him, but a lot of the people who were often in the front of his classes ended up in the Footloose cast.  I think that was the first time I recognized people who I had danced in a room with on TV.  It blew my mind.  I also recorded that performance and learned it.  
Most memorable Tonys acceptance speech, and why?
Savion Glover when he won for Bring in Da Noise Bring in Da Funk.  I clearly remember him going up and simply saying "Big ups to my peeps" and then leaving.  His absolute coolness was next level. 
What is one play or musical you would like to choreograph on Broadway, and why?
My dream project—just putting it out there—is to put my own choreography twist on Guys and Dolls.  I can see it so clearly.  I love fusing worlds together, so I'd love to take on a real classic dance musical and give the choreography a very contemporary vibe while keeping all the sets and costumes in a classic vocabulary.  
& JULIET is currently running at the Stephen Sondheim Theatre, and earned nine Tony nominations, including Best Musical.