A Tribute to Angela Lansbury
October 17, 2022
•
All week long, we celebrate the life and legacy of Angela Lansbury. Here are tributes, stories, memories and the indelible life we remember and will never forget.
Today: Jason Alexander, Debbie Allen, Annaleigh Ashford, Elizabeth Ashley, Candace Bergen, Andre Bishop and Danny Burstein.
---
JASON ALEXANDER
Let me just share a personal story.
It is fairly well known that I was reluctant to be in the cast of Jerome Robbins' Broadway because when I was approached it was conceived as a giant dance review of Jerry's best Broadway choreography. And clearly, I couldn't dance it. But they kept saying that I was to be "the host" of the show. And that didn't sound like much of a task for an actor so I kept passing.
Eventually I understood what the role could be and took it and eventually won a Tony for it. But during the early part of the run, the New York Times did an interview with me in which I was trying to explain my reluctance to be cast as I have done here for you. And I said to the interviewer, "they kept telling me I was going to be the host. The host? I mean, what is that? Angela Lansbury is the greatest host in Tony history but even she wouldn't want to do that eight times a week". 
Somehow, when the article came out, that quote was paraphrased by the author saying something like, "Jason feared he'd be stuck in a hosting role like Angela Lansbury". So not what I said!!!!!! It felt so demeaning and dismissive of Angela. I was devastated. I wanted to reach out to her to explain but I didn't know her and didn't now how I could reach her. So, I just let it go and hoped she wouldn't see it.
Months later she came to our show. And in true Great Lady of the Theater form, she came backstage to shower compliments on our company. But she specifically came to my dressing room and gushed over my performance for a solid five minutes with compliments so lush that I could barely stand. And all the while I was thinking, "should I say something? Should I mention the article?" I remained silent and after a thorough exhalting from Dame Angela, she began to walk away. And at that moment I broke.
I ran to her and said, "Ms. Lansbury, I have to tell you…I don't know if you ever saw it or heard about it but I was so horribly mis-quoted in the Times. I was trying to explain that being a great host is not an easy task but that it is not something an actor would necessarily find challenging in a long run of a show and I referenced you lovingly but they got it all wrong and I have felt terrible ever since thinking you would think I would ever go anything but revere every moment of your work and I'm sorry I didn't say this earlier but I've just been so embarrassed". 
Angela gave me a big, heartfelt hug and then put my face in her hands and said, "my darling boy, the papers never get it right. I saw it. And I was delighted just to see that a young artist like yourself even knew who I was". She had seen it. And despite what it sounded like, she came backstage and showered me with affection and praise, and then walked away. If I hadn't said something, she would never have known if the paper was right or wrong. And it didn't matter to her. She knew who she was. She knew her worth. She was a woman of the theater. 
I met Angela several times over the years after that, even doing several benefits with her. We always shared a good laugh over that experience. She was grace and dignity and good fun and true professionalism through and through. She was a queen. And she left us with her amazing legacy of work and spirit. God bless her.
---
DEBBIE ALLEN   
I had the distinct pleasure of being in Angela's company during her many appearances 
on THE ACADEMY AWARDS celebrations when Gil Cates was producing.  I think he was surely one of her greatest fans. She was beyond delightful and fun to be around. So funny, so many great stories and so gracious, while being very grounded by her personal life. Her son was her favorite and best companion. She was one of a kind, and will be remembered with tremendous respect and always a smile.
---
ANNALEIGH ASHFORD
Angela Lansbury was one of the greats. A truly magical artist. She had the wonderful combination of craft and God given talent. Most of all, she was not only a great performer but she was a great human. There was clearly such a love and respect for the theatre as an artform and for the theatre community. She also showed those of us who are mothers in the theatre that it is possible to do eight shows a week and have a family. 
My favorite Angela performances  Mrs. Lovett, Mame, Mama Rose. The list goes on and on. But I will aways have a uniquely special place for Bedknobs and Broomsticks.
I met her three times. I cried every time. She is one person that I was truly unable to control my emotions in front of. I couldn't talk and had to walk away. I had such a profound sense of gratitude for her as an artist. I have always felt connected to her body of work and her commitment to being a character actress. I want to be her when I grow up. Always have and always will.
---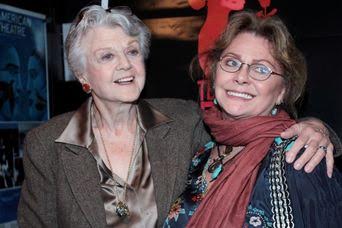 ELIZABETH ASHLEY
Countless hearts were broken last week when beloved Angela Lansbury left us for that big ole dressing room in the sky. Where else would she go?
I know exactly where she is right this minute because –
it's always 'half hour' somewhere.
She's at her dressing table, staring in the mirror and putting herself through that ancient ritual actors have been doing since Euripides wrote the script.
First, pinning and securing her wig cap and starting her makeup. Then, Angela'll take that little piece of sandpaper she always has tucked under her hairpin box and scratch the soles of the shoes she'll be wearing when she makes her first entrance onstage. "Insurance against slippage," Angela says.
"15 minutes please" will be heard over the dressing room intercom, until "five minutes please" blares everywhere backstage. Then comes the always slightly terrifying "places please, ladies and gentlemen. Places, please." And off she goes, like the thoroughbred she is.
In the weeks, months, and years to come, every superlative in the dictionary will be used in remembrance of Angela Lansbury. All will be accurate and true. I racked what's left of my brain to recapture my immediate visceral response when I first heard "Angela Lansbury died." Two words blazed thru me –
1.)    Monumental – defined in Oxford Dictionary as 'Great in importance, extent, or size.'
2.)    Champion. Bottom line, she is and will always be the Muhammad Ali of performing artists in the 20th and 21st centuries.
Her artistry, creative imagination, strength, generosity of spirit, perseverance, humility, determination, kindness, immeasurable talent, professionalism, and dedication set a bar so high it can never be attained – only aspired to.
I've known Angela since the early 1970's. Later, I did a couple of guest shots on Murder, She Wrote, and we became friends. Once, I was being considered for a job that I desperately needed both financially and professionally but was told I was at the bottom of the list because much more famous actresses were being considered.  During the 'waiting to hear' period I ran into Angela on a film lot. She asked what I was doing, and I told her. I'll never forget her response. She told me she'd never been first choice for any of the best parts she'd done in film or on stage! She said – "you walk into that room and just tell them they should know that part has your name all over it!"
One of the most daunting jobs I ever did was when Jeffrey Richards asked me to replace Angela when she was leaving The Best Man on Broadway. Angela would continue for a week while I rehearsed during the day. She not only insisted that I use her dressing room when I had a break in rehearsal, but she also helped clarify the blocking that was all new to me. She even gave me tips on how to navigate the sometimes-complicated scene changes.
It goes without saying I was always a super fan. Her range was unmatched and awesome. Her body of work is so vast it's impossible to single out any one thing.
I'm always fascinated by the choices actors make in extremely difficult roles. Angela's work in The Manchurian Candidate – She was terrifying, but at the same time you understood and empathized with her.
I'll never forget the opening night of Sweeney Todd. You fell in love with her and just wanted more and more of her horrifying pies. Truly, we'll not see her like again.
So, to the original genuine 'wild Irish rose,' – One last time, "Places, please."
P.S.- Thanks for leaving that little scrap of sandpaper on the dressing room table – it's my 'Angie-treasure' –
("No slippage.")
---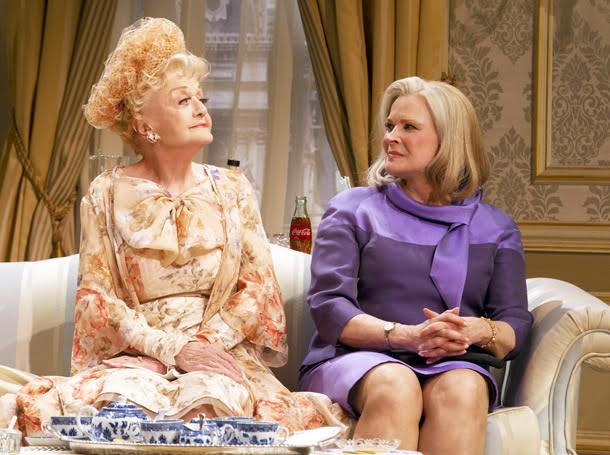 CANDICE BERGEN
Angela has been, to an actor, Eternal. Like the coastline or the Empire State Building. Always excellent and always with great range. She could sing, probably dance, and she won tons of awards for acting. 
One memory I have of her (which I was actually shocked by) was her doing leg lifts and tours jetes holding onto the podium backstage before the curtain went up. She'd had hundreds of surgeries hip and knee replacements and she was almost cocky about her flexibility. I got it. She was remarkable. Meticulous about her work on stage. A couple of times I tripped her up because I was late with a cue and afterwards she told me, "It all makes a difference. Every little thing triggers something else. I need it all to be exact." She was right and I learned the importance of discipline in one's work from her. Discipline and pride. 
She had enormous stamina, she was 86 when we worked together in THE BEST MAN and she never missed a performance, never arrived a minute late. She had a system and she kept to it and it paid off. I've never worked with anyone more professional . She was a pleasure and it was a privilege.
---
REED BIRNEY
In 1968, I was in ninth grade in Wilmington, Delaware. My mother had been so disappointed that she hadn't seen Angela Lansbury in MAME, so when this incredible ad appeared in the Sunday Arts and Leisure section announcing DEAR WORLD, my father sent right off for ticket for the whole family to trek to NYC so we wouldn't miss out again. 
I think it was a Saturday night in December, up to The Big City we came, all seven of us, full of anticipation. I, who had always wanted to be an actor, was out of my mind with excitement. We stayed in the Howard Johnson's at 51st and Eight Avenue (now the Hampton Inn) right around the corner from The Mark Hellinger. We had dinner at Les Pyrénées, now long gone, next to the theater and my oldest brother who was 18, had his first legal drink, a daquiri. We arrived in our coats and ties at the gorgeous theater (still unchanged inside even though it has ceased to be a theater.) The lobby was out of control with excitement. They were handing out the souvenir programs for free (I still have it) because the creative team detailed inside had been replaced, the director Peter Glenville was out and Joe Layton had taken over. The play was supposed to have already opened by the time we were there but because of the switcheroo, changes were still being made, songs listed in the Playbill were gone and new ones not listed were sung. The show must've been in trouble because Peter Glenville hadn't even been the first director, the ad had announced Lucia Victor. 
None of that mattered. The memory of sitting there at 14 is as vivid to me today as it was that cold and long ago Saturday night. Angela Lansbury's iconic status even then– just within our family– was permanently sealed. Her performance that night was seared into my still plastic brain, and when she won the Tony the following spring, we were all as proud as if she'd been a member of our family.
I think for all of us in the theater, we felt like she was a member of our family, a great aunt–is her name Mame?–who was always there full of joy and celebration. I saw her many times on stage after that, and it was always the same incredible jolt I felt at 14 to be in her presence and see her making magic. And my children saw her on stage. I certainly can think of no other actor, even legendary ones, who appealed to so many of us for so many reasons. She could do it all, and did, so the musical theater aficionados had that that Angela, straight play lovers had their Angela and movie buffs worshiped her for her gorgeous performances on film. Plus she was one classy classy lady, always carrying herself impeccably, even after the days when that was no longer in fashion. She set very high standards in every aspect of her life.
Forty years after I saw her in DEAR WORLD, I asked was to do a reading with her. It was a talented and seasoned group of actors but we were all flabberghasted that she, at that point in her astonishing career, would be into spending her day like so many of us do, in a conference room with a handful of fellow artists, exploring a new play. She was incredibly collegial, relaxed and generous and stayed after to discuss the flaws and strengths of the play, just like the rest of us. Still setting a standard of integrity and artistry. How to be an artist, on and off the stage. 
I, of course, couldn't believe, that my journey had led me from that cold night at The Mark Hellinger Theater to sitting in a conference room with Angela Lansbury. Such was the miracle of her career, it just seemed that she was just always there, a beacon for generations, and we had no reason to think she wouldn't continue to always be there.
But actually, she lived one of those lives that will always be there. Her work is incredibly well documented, and the fact that her first performances on film remain as fresh and alive today as when they were filmed lets us know her work will never go out of fashion or appear dated. Several of her film performances are touchstones and inspirations for me on how to be a great film actor THE MANCHURIAN CANDIDATE, ALL FALL DOWN. She has a moment in THE WORLD OF HENRY ORIENT that continues to take my breath away, even thinking about it.  Such is the result of living an authentic and truthful life that she brought effortlessly to her work. And also being as talented as a person can be.
How lucky we all are to have shared the planet with a soul as transcendent as Angela Lansbury's.
When we got home to Wilmington the next day after seeing DEAR WORLD, I went off to a Christmas party at a friend's house. As I was leaving to go, my mother, seeing how hopped up I was from our excursion to The Big City and Broadway, said, "Now, don't go to the party and brag about our trip to see Angela Lansbury." I can't remember if I bragged at the party that night, but I have been bragging about it ever since. And I imagine I will for the rest of my life.
---
ANDRE BISHOP
Angela Lansbury was a great artist, and she was impressive particularly because she kept reinventing herself. First she was a saucy young movie actor; then a musical comedy star, then a beloved television icon. She taught us that you could be talented and impressive and still be decent and nice. She was fun and smart and she was an example of excellence to those of us in show business.
My favorite performance of hers would have to have been – what else – Mame!
I knew her only slightly but I remember one day when she was doing a reading here of The Chalk Garden she suddenly turned and said to me "I've played everywhere but I have never played the Beaumont. Do you think you might have room for me someday?"
---
DANNY BURSTEIN
Angela Lansbury epitomized "class" in the Theater. She was kind. She was a true professional. She worked hard and showed up night after night. She was incredibly talented. She led by example. And she was always good. 
My favorite Angela Lansbury performance? How can I not say Mrs. Lovett? She was fierce, funny, sexy and brilliant. And, what the hell, The Manchruian Candidate wasn't bad either.
I met Angela on several occasions throughout the years. But my favorite time was after an early preview of Fiddler on the Roof. She came backstage to say hello to me. About a year before I'd gone backstage to visit John Lithgow after a show and he asked me to sign his "remembrance book". I thought to myself, I should do this for all the people who come backstage after Fiddler – it'll be a wonderful way for me to remember that time. The first person who came back was Angela and I was a little nervous & embarrassed to ask her to sign the book. I explained to her that John had done this and I thought it "might be a nice keepsake". In an instant she grabbed the book, held it close to her heart, closed her eyes and said, "Oh, Danny, I have always wanted to do this!!!" Immediately all my nerves about asking people were gone. I mean if Angela Lansbury loved the idea, then it was definitely okay! She signed her autograph with a huge flourish, gave me a hug and was on her way. I'll never forget it. I'll never forget her.