A Tribute to Angela Lansbury
October 18, 2022
•
All week long, we celebrate the life and legacy of Angela Lansbury. Here are tributes, stories, memories and the love we remember.
Today: Kerry Butler, Brian Cox, Bryan Cranston, Michael Feinstein, Santino Fontana and Julie Halston
---
KERRY BUTLER
Angela had the career we all dream of.    She crossed over into  theater, television and film and did it effortlessly.  She is a theater icon for roles like Mame and Mrs. Lovett.   My family and I loved to watch her on Murder She Wrote.   I am a huge Disney fan, so I'm partial to Beauty and the Beast and Bednobs and Broomsticks.   

Working with Angela Lansbury on The Best Man was an honor and privilege.    She has an unmatched career- what I didn't know was how kind she was.     No one on that show could be a diva because Angela and James Earl Jones (I think both in their 80's at the time) were so kind, down to earth and such hard workers.    Before one scene I got to sit on a couch with Candice Bergen and Angela, and Angela would tell us stories about growing up in the business.   She said her mother (also a performer)  would travel with her when she was a baby, and she would sleep in a dresser  drawer!   Working with her was a highlight of my career.   
---
BRIAN COX
Angela has to be admired and wondered at for the sheer extraordinary range of her work from Film, TV…Dramatic and  Musical Theatre …which is probably unequalled by any other actress..ever. 
She was such a tremendous,  benevolent and consistently  constant force in our business.
It's extremely hard to imagine our game without Angela Lansbury.
Of course her greatest performance for me was…Eleanor Shaw in the Manchurian Candidate.
To think she was actually three years older than Laurence Harvey who played her son. A compelling study of Matriarchal Evil. And so much the antithesis of who she was as a kind an considerate person.  An awe inspiring acting achievement. I was 16 when I saw it… she completely scared the shit out of me.
Unforgettable.
One of my regrets, having been such a fan…is ..sadly I never met…but…What an actress!
---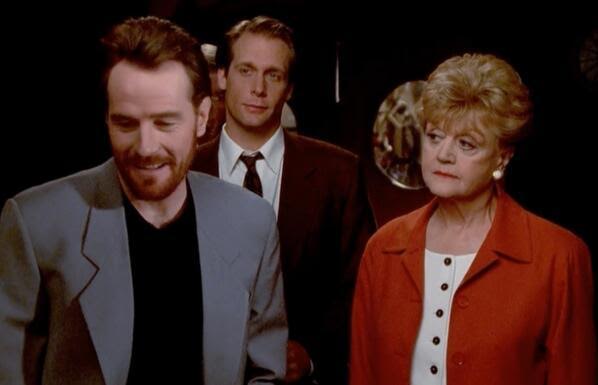 BRYAN CRANSTON
Angela was an amazing actor.   A champion among us all.  Those of us who go to do a Murder, She Wrote (or three) and got to experience her craft that she handled with such grace.  On film she was treacherous in The Manchurian Candidate and delightful in Beauty and the Beast.  But it was on stage where she truly lived and I was marveled by her work in Blithe Spirit, Gore Vidal's The Best Man and, of course, Sweeney Todd.  The curtain is lowered now, Ms. Lansbury…the show's over, and you were splendid!
---
MICHAEL FEINSTEIN
One of the most powerful and inspiring things about Angela was her strong sense of self combined with true compassion and kindness towards all. Everyone was treated equally. She knew exactly who she was and what she could do, and her unwavering sense of that eventually resulted in achieving her goals when others might have given up earlier in the game.
My favorite performance of hers was the reunion with Len Cariou at the Hollywood Bowl for the Sondheim 80th Birthday Tribute when they recreated "A Little Priest". It was a time capsule and we were all transported back to 1979. She was ageless.
Accompanying her at the piano (for a special event) was a wonderful experience, and I was taken by how insecure she felt when she wasn't portraying a character and just being herself. She needn't have been, for she sang wonderfully just as Angela Lansbury!
One time I went to see her in Blithe Spirit I noticed that the once fearsome critic John Simon was seated to my left and was out cold, snoring in his seat. When I went backstage and mentioned it to her, thinking she'd find it funny, she didn't. She responded "Who does he write for?" and I said "Bloomberg". She lightened up immediately, and laughingly said, "Oh, then it doesn't matter". 
---
SANTINO FONTANA
I'm thinking back to my childhood and remember seeing her in Bedknobs and Broomsticks, then hearing her singing the title song in Beauty and the Beast.  All while the adults in my family were watching Murder She Wrote.  Then I remember the older theater kids in my school passing me a top secret video tape of this adult show called Sweeney Todd.  Was that the same woman?  My high school did a production of this never done show, Anyone Can Whistle…"here Santino listen to the cast album, it'll make more sense." That's the same woman again?  Then once I was old enough, my  grandfather recommended I watch The Manchurian Candidate.  That's her too??? Years later, I was asked to sing at a benefit honoring Hal Prince.  Afterwards, a gentle, warm woman approached me.  "Hi, I'm Angela.  That was quite good.  Who are you?"  She could be considered a legend for the sheer volume of work she created.  She could be considered a legend for the expansive diversity of her work dramatic feature films, children's animated films, musical dramas, musical comedies, television series and movies, Noel Coward plays, Terrence McNally plays…it goes on and on.  She was limitless. But what I think makes her truly legendary is how in all of her performances she somehow found her way into our hearts. She made us feel like we knew her and she loved us.  My favorite Angela performances   Sweeney Todd, Manchurian Candidate, Bedknobs and Broomsticks.
---
JULIE HALSTON
A few words regarding this simply legendary performer and person.
The quality of her work is known of course but the longevity of her career is what I find so amazing and frankly inspiring as an artist.  That this woman , whose charm and grace and professionalism was very well known could also keep reinventing herself with a variety of skills is what means so much to me as an artist. Film star, Broadway Star, Television Star, Animation Star -was there anything she couldn't do?!  and all with the above mentioned charm and grace.
Her performance as Laurence Harvey's ruthless mother, Eleanor  in the film The Manchurian Candidate still makes me shudder with her sly, flirtatious and utterly terrifying portrayal.  
And although I did not see her on Broadway in Mame , I remember very well the 1975 Tony Awards when she came down those stairs and ended up in the arms on Mayor John V. Lindsay -she was surprised and laughing ( it's on YOUTUBE) I just thought this was the most glamour I've ever seen ! ( I had not met Charles Busch yet !)
Speaking of Charles Busch,  Angela was a great admirer of Charles' work and we were all beside ourselves when she came ( with Ian McKellen !!) to the downtown Soho Playhouse to see The Divine Sister – She and Ian had a wonderful time and of course pictures were taken ! And then , a few years later I did a workshop with Angela of the Ahrens / Flaherty musical  Anastasia . The minute she saw me , she threw her arms around me and said " Darling I'm still laughing about the nuns you and Charles played !"  She was so kind to me and everyone and I kept thinking " Is this happening ?"
We were blessed to witness this extraordinary talent , this fabulous woman and this true legend. We were lucky – we may never see the likes of her again.